Salada de Polvo (Octopus Salad)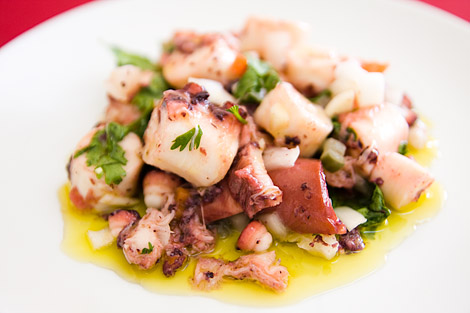 2 pound frozen octopus, thawed and rinsed
2 onions, chopped
4 garlic cloves
125 ml olive oil
100 ml white wine vinegar
1/3 cup chopped cilantro
1 carrot, halved and very thinly sliced
1 celery rib, halved and very thinly sliced
salt and pepper to taste
Cut off and discard head of octopus, then cut tentacles into 1-inch pieces. Cover octopus with water in a heavy medium pot and simmer, uncovered, until tender, 45 minutes to 1 hour. Drain in a colander and cool to room temperature, then transfer to a bowl.
Add all other ingredients and toss very well. Without the cilantro can be made one day to another and kept in refrigerator. Stir cilantro before serving.
Before serving, add more olive oil and vinegar if desired.