Pudim de Leite Condensado (Brazilian Style Flan)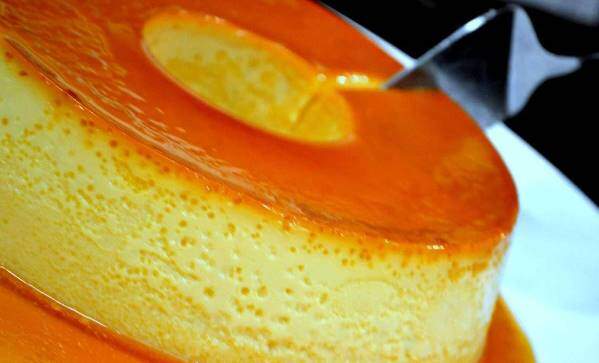 2 cans (14 oz each one) sweetened condensed milk
28 oz milk (use the same measure of the condensed milk can)
5 eggs
For the Caramel:
1 cup sugar
Start with the caramel, placing the sugar in a sauce pan (I melt it directly in my metal mold in the stove top), and let it melt until gets a medium-dark brown, amber color. Carefully place this caramel immediately into baking mold, making sure the bottom and sides of the mold are covered with some caramel.  Let rest for a few minutes to harden a bit.
Now we can work in the batter of the flan. Simply put all the ingredients in a blender and let it blend for at least 4 minutes, no less than that.
Place the mixture of the blender directly in the baking mold. Cover the mold with aluminum foil,  and place this baking mold in a roast pan, or another baking pan, big enough to retain water, for we going to bake this in banho-maria (bain-marie).
Bake in Preheated oven 350F or 180C) for 45-50 minutes. Check if it is done by inserting a knife in the middle. It should come out clean. Cover with the aluminum foil again and set in the fridge overnight.
Next day, take out of refrigerator and let rest for about 15 minutes. With a knife or spatula carefully separate flan from sides of the pan (inside as well if using pan with a hole in the middle). You will notice caramel will come up the sides once it is separated and ready to turn over.
Turn over in a serving dish and enjoy. The serving dish might be death a little, for the caramel will produce a delicious brown liquid, kind of a syrup that you will love to eat with a good slice with flan.